Colorado Based Virtual Payroll Service
This highly efficient and highly profitable Colorado based virtual payroll service is a great find for most anyone seeking a business with tons of potential for growth and offers a very nice cash flow to the owner! The employees work remotely using state of the art software with high performing technology and integrations that can pay US based employees as well as contractors nationwide and internationally. Daily client payroll and software support is provided through partnering with Gusto, a top-tier payroll platform provider. The sale includes a part-time payroll admin person and a part-time certified payroll advisor. With over 30 years of payroll industry experience, the seller has offered to help establish the payroll business for the buyer to maximize their profits. The buyer will need to agree to operate the business on the Gusto platform after closing.
Additional opportunities exist for upselling payroll services to a buyer's client base, strategizing the pricing structure to maximize margins, and assist buyer with the conversion process for their current clients that convert to the Gusto platform.
Revenue Breakdown:
100% Payroll and related services
I Want to Know More about this Listing!
6 Steps To Success For Buyers
Our experience in the industry makes the transaction simple.

Before making a purchase, know your options. Are you looking to start a business organically? Or do you want to purchase an existing firm?

So you know you want to start your business, but there are still a lot of questions that can only be answered by you. It's time to evaluate the details.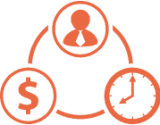 Evaluating resources doesn't just mean money, but it often does start with your fiscal ability. Determine what financial resources you have available.
Don't See What You're Looking For?
Be among the first to know when new listings become available in your area.