The sellers of this Columbia CPA firm are approaching retirement and seeking a CPA buyer. With a large number of business clients and a good fee structure, this practice offers a nice cash flow to the owners. Practice can remain in the current location and sellers are willing to assist with a smooth transition.
Revenue Breakdown:
8% Accounting, bookkeeping, and payroll tax preparation services
42% Income tax preparation services for individual clients
40% Income tax preparation services for business clients
7% Audits and reviews
3% Consulting (non-tax related)
I Want to Know More about this Listing!
6 Steps To Success For Buyers
Our experience in the industry makes the transaction simple.

Before making a purchase, know your options. Are you looking to start a business organically? Or do you want to purchase an existing firm?

So you know you want to start your business, but there are still a lot of questions that can only be answered by you. It's time to evaluate the details.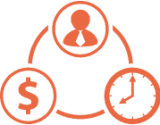 Evaluating resources doesn't just mean money, but it often does start with your fiscal ability. Determine what financial resources you have available.
Don't See What You're Looking For?
Be among the first to know when new listings become available in your area.